LATEST FITTINGS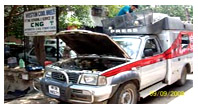 If you own a coach or minibus you will realise how important air conditioning is in your vehicle, for coaches keeping your passengers happy


AC Fittings in Ambulance
Air Conditioning Ambulance.

AC Fittings in Bus
With the increasing demand and..

AC Fittings in Cars
If you own a coach or minibus you..
WELCOME TO WESTON COOL BREEZE (WCB)
Air Conditioning Services
At Weston Cool Breeze (WCB), WCB are proud to provide services to Delhi & NCR area since 1993 and look forward to helping you with your Air Conditioning and CNG needs. We're pleased to serve both residential and commercial customers.more....
Automobile Air Conditioning Services
WCB take please to introduce ourselves to your esteemed organisation for Novel Services & field of expertise e.g. Air conditioning of Automobiles including installations providing warrantee & routine services installation of Natural Gas Conversion system with engine electronic control wih computer assisted calibration for accurate performance & economy.more....